Summary: Here is a help that I found for children and teens who struggle with reading. It is called the Reading Focus Cards and there is also an app that can be used on computers, too. It has already helped 1,000's of kids/teens. #readingfocuscards #strugglingreaders
Do you have a child or teen who struggles with reading?
Do they forget what line they are on, or have trouble concentrating?
Or does your teen get distracted by the other words on the page?
I have recently found out about a helpful and clever device that could help your reader, called the
Reading Focus Cards
(Patent 7,565,759).
These specially designed cards help eli
m
inate distraction, and improve reading in a number of ways, by guiding your reader to focus on just the words at hand.
This device has helped 1,000's of kids and teens with:
-ADHD
-dyslexia
-autism
-visual processing issues
-and other learning issues.
They are made to work with all kinds of books, from picture books to novels, and come in two different sizes, with filters included.
Below is a picture of one of them.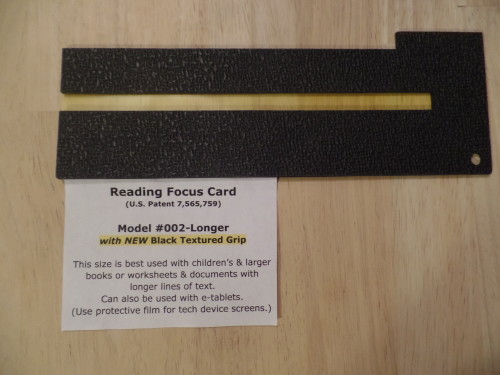 The Reading Focus Cards are specially made with specially made filters to help the reader focus.
They were developed by Mrs. Joan Brennan, a special education teacher who has worked with kids and teens for over 20 years. She is a big supporter of homeschooling and started Brennan Innovators, LCC.
With these tools, her challenged readers significantly improved a number of reading skills, including their:
-focus
-tracking
-fluency
-reading rate
-comprehension
-word attack
-and retention.
The way this reading tool works is simple.
It is designed to train the reader to focus on individual words and text lines, guiding the eye appropriately from left to right.
In this way, this educational tool helps promote more focus, improve important reading skills and eliminate distractions such as other text lines on a page and the white page backgrounds.
from Mrs. Brennan @ Focus and Read Blog, where there is much more information on the Reading Focus Cards and how to use them.
She also offers an app that works on computers.
To read more about that and how it helps with digital reading, please click here - Reading Focus Cards App. (
(Patent 8,360,779)
This post was shared on What to Read Wednesday and was featured! Thanks!!
Thanks for stopping by BJ's Homeschool,
Copyright 2020
All Rights Reserved