Summary: Free homeschool preschool and kindergarten pre-writing activities, including fine motor games, plus frugal or free resources for handwriting. Plus games that help with grasp, too. Is your child ready to write? Sharing from my OT days.


The early years of preschool or kindergarten, are the perfect time to help your little ones develop their finger coordination (fine motor) skills to get ready for handwriting.

I suggest waiting on the handwriting lessons until your kids have solid small muscle skills and coordination. But how do you help them develop those things?

There are so many fun ways to get their fine motor skills going strong. Playing with small objects, like small legos and doing lots of arts and crafts activities are great ways to build fine motor coordination.

Playing with playdough or clay is a also great way to build up and strengthen the muscles of the hand and wrist.
Today, I'd like to share a bunch of easy to do pre-writing
activities from my O.T. days, that will help your homeschooled kids to:
- Develop hand strength and build
finger coordination
- Learn a mature grasp
- Frugal and Free Resources for Handwriting
Let's start with the small muscle games.
This article includes a bunch of fine motor games. Here's a fun game from the article above, to help encourage fine motor skills: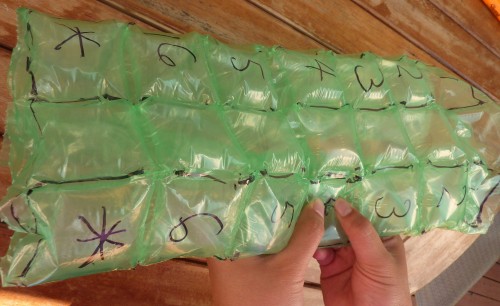 Bubble Wrap Maze
For the Bubble Wrap Maze activity:
Just get a piece of bubble wrap and let your kids pop the bubbles.
Popping the bubbles with the thumb, index and ring fingers, pressing together, like in the picture above can really help.
Make it a game and pinch along a path on the bubble wrap!
Click
here
more helpful activities for small muscle development.
They are fun for your little ones and do not require much preparation at all.
Now let's talk grasp patterns, ie, how to how the crayon or pencil.
The article above includes 9 FUN ways to help teach your child to grasp their pencil with a mature grasp. It also explains very simply what a mature grasp looks like. With photos.
Below is one of the 9 Grasp Activities from this article:
COLORING TRICK ACTIVITY


Coloring
with very short crayons can encourage your child to use his first three fingers, instead of the whole hand. But if your child still wants to use his whole hand, that is ok. Learning to use the fingers instead takes time, and each child has their own learning curve.
When coloring with short crayons, there is more of a chance that your child will grip with the first three fingers only.
There is no room for the other fingers to fit on the crayon!
Here's another way to encourage using the first three fingers, plus 7 more grasp activities....Read on by clicking here for 8 more grasp activities.
When your kids are ready for handwriting work, check out this article below.
3. FRUGAL OR FREE HANDWRITING RESOURCES
When it is the "right" time to start actually handwriting lessons?
I would say that the best time to start is when you child has an easy and comfortable grasp of their crayon. And when they can easily color in different shapes, small and large. Also, when you see them drawing lines, circles and squares, they are showing readiness.
If your child is ready to get started, I recommend beginning with the large capital letters of the alphabet.
Below are free or frugal homeschool handwriting curriculum resources. You don't have to buy an expensive handwriting program unless you want to do that.
What would you add to this list?
Thanks for stopping by, and I love hearing from my readers. Send me a handwriting or homeschooling question via Facebook IM's.
Thanks for stopping by BJ's Homeschool,