Summary: Homeschool middle school resources for doing middle school writing, with 3 different approaches to teach writing to young teens.
Note - This post may included affiliate links to products that we love and have used or would use in our own homeschool. Please see my
disclosure policy.
At BJ's Homeschool, we kept our interest based focus during the middle school years, too. This was especially true in our approach to writing. Encouraging written expression is so important, and finding ways that are child or teen-led can make all the difference!
So we followed my daughter's interests, and that led to develop her middle school writing skills, three ways: through story writing, nonfiction writing, and then research report writing in her areas of interest.
And these three approaches may help your middle schooler, too.
W

hen my daughter was a 7
th grader, she was

all about story writing. She loved to read and try her hand at mysteries and other stories. Then she began working on
a science fiction story at co-op.
It was something that she wanted to continue, even after the class ended.
So in 7th grade,
I introduced her to t
he
National Novel Writing Month.
(NaNoWriMo) And we got their great writing book, No Plot? No Problem. This served as a helpful guide to my daughter, as she worked on story writing. We
also connected with their facebook community page, so that my teen could connect with other middle and high school writers.
NaNovWriMo encourages kids and teens to write something every day, and work on a long short story or even a novel. But it doesn't have to be that complicated. Just working on writing every day is a great goal.
My daughter wanted to work on a short story, so we dropped our other homeschool courses and just focused on writing in November. We would just gather up all of our favorite blankets, and write on the couch.
National Novel Writing Month.
helped her to track her progress, giving her pep talks and support, and also connected her to others online.
Then, later on, my daughter wanted to write about her field trips with our co-op. For that, she needed to learn more about nonfiction writing.
To learn how to write field trip stories and more, we turned to
Spectrum Writing 8 as a guide.
This book was full of helpful writing tips and p
ractice for learning the process of writing - from brainstorming to draft, revision, editing, and publishing.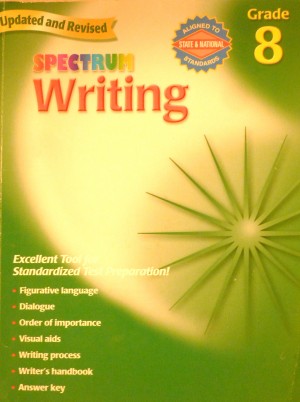 SPECTRUM WRITING- grade 8 -includes writing activities which cover all of these writing skills:
Writing Basics

Expressive Writing (includes personal narrative)

Descriptive Writing (includes sensory)

To entertain (story writing)

Persuasive Writing (debate kids would love this chapter)

Explanatory Writing (such as science experiment write-ups)

Informational (includes recipes, how to's)
This workbook included many clearly written forms which help my teen to put her thoughts down on paper, and guide her through the steps of writing...
I invite you to Click here for the rest of my review.
My daughter wrote about her favorite field trips, and got one article published in a magazine for kids and teens.
It is not that hard to do. Here is the online magazine she wrote for, Creative Kids.
Then, later, we took on another aspect of nonfiction, that of writing research reports.
3. Research Report Writing
One day, while we were studying science together, we saw that her curriculum called for a research report. My young teen wanted to write about her favorite animal, but she was not confident in her research writing skills.
So we searched the shelves of our local bookstore, the Children's Bookshop (www.childrens-bookshop.com), and found the book How to Write a Research Report.
This book turned the process of report writing into a series of easy steps!
"Sometimes the hardest part of report writing is just getting started. The worksheets in
How to Write a Research Report
could be much less daunting than staring at a blank page!
When my daughter finished working through this book, she had written her first middle school research report on her favorite topic
."
Click
here
to read the rest of my review, if you like.
So that's the three ways we did writing during the middle school years. What are your favorite resources for middle school writing? Whatever way your teen wants to write...The important thing is that they are expressing themselves in written language....If you have a little time for a comment, I would love hearing from you!
Have you seen my NEW book around the net yet? Are you considering homeschooling high school?
Thanks for stopping by BJ's Homeschool,
.
Copyright, 2019
All Rights Reserved