Are you looking for some easy to do indoor
activities for summer, when it's raining or just too
Learning sign language turned out to be not only a fun
summer time activity for us, it also enhanced the early
learning that my daughter had done, that year.
As an OT, and a homeschooler, I get excited about the
benefits of signing....It is a great way to enhance
academic early learning because it is literally hands-on.
It gives excellent sensory feedback to young learners,
who may learn best through tactile channels.
For kids who have sensory or attentional issues, sign
language can be a great way to reinforce their
academics.
8 Benefits of Learning Sign Language
1. Learning the alphabet in sign
language, is a great way for kinesthetic
learners to master the ABC's.
2. Learning number signs enhances your
math program, and makes counting more fun.
from
You Can Learn Sign Language
3. Learning signs helps build memory skills.
4. Signing is fun! It can be a nice break from your
regular school work, and build confidence, as your
kids learn a new sign, and share it with others.
5. Kids can learn how grammar works, by learning how
to put together words in ASL, and that they follow
a different order than that of English.
6. Learning sign helps to build fine motor
coordination for handwriting.
7. Sign language can help develop visual spatial skills
that
are important for learning to read.
8. Signs can be used to help teach your kids
about emotions, as they learn the signs for their feelings.
- You Can Learn Sign Language Book -
This was
just the
ticket for us.
It is written by experts in the field of deafness and American
Sign Language (ASL), which is the true language of the deaf.
To read more about this little book from Scholastic, click
here
.
- Sign Language Flash Cards -
Another resource that we liked was a frugal set of
flashcards ,called Sign Language Flash Cards from
Carson-Deliosa.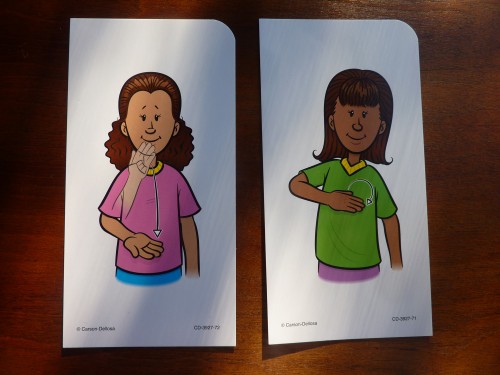 from Sign Language Flash Cards
There are very simple signs that
can
be
used with your young toddler, to help with
communication,
such as....the sign for milk, or the
sign for juice.
For more information on this
S
ign language not only added a lot to our
summer
days, it also gave my daughter great practice
in
small
motor
and visual processing skills.
Have a fun summer and enjoy
signing with
your
family!
Happy Homeschooling,
Betsy