Summary: Sharing frugal ways to get help in creating your teen's homeschool transcripts.
Note - This post may included affiliate links to products that we love and have used or would use in our own homeschool. Please see my
disclosure policy.
Have your begun making your teen's transcripts, and found it to be a little daunting?
I did.
Compiling all the necessary information, and knowing what to put where, can be overwhelming, to say the least.
And who doesn't want a little help for this important task, anyway?
Frugal Resources for Transcripts
1.
Creating Transcripts for your
Child
by Lee Binz, the
Homeschool Scholar
photo credit - Homeschool Scholar
This 49 page ebook offers tips for making your teen's transcript.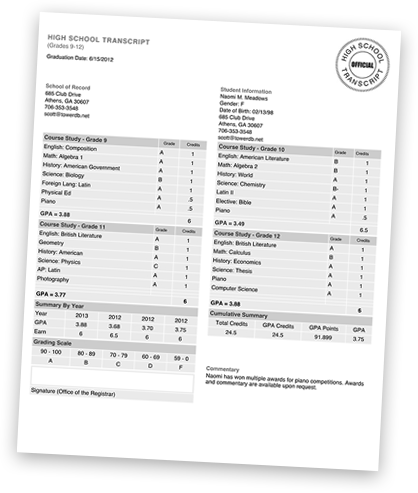 Wondering what to put where, for your teen's transcripts? Fast Transcripts does this for you. I found it very helpful to have this assistance when I did my daughter's transcripts.
And they help with the record keeping too, so you can put each of your teen's courses in, just one at a time, if you like.
"Fast Transcripts enables you to track your high schooler's courses via online record keeping, and then helps you produce an official transcript with an auto-calculation feature for determining yearly and cumulative GPAs.
You even have the option of having your final transcript printed on watermark protected, academic record stock! Take the worry out of creating, updating, storing and sending your student's transcripts." .....
HSLDA
3. Homeschooling High School with College in Mind, 2nd edition
Would you like resources and tips for making your teen's transcripts and getting them into college, from someone who has experience doing just that?
My teen got into each of the colleges on her list, with scholarship offers, including a Tier One U. And it was not hard to help get her there.
My book includes 10 easy steps for going from homeschool to college plus tips for making your transcripts, and:
- A transcript form for you to just fill in
- Step by step instructions for filling in the transcript form
- A sample transcript
This book is an easy-to-read guide to college for homeschoolers, recently updated with 7 NEW chapters, including:

- My guide to the Common Application
- 100 High School Electives
- Where to find college scholarships
- How to make your own homemade courses
This book does not tell you how to homeschool high school. Instead it helps you do it your way, with the encouragement and tips in this book.


Recommended by: Lessa Scherrer, certified college counselor
from
College Inside Track:
"
Betsy has a wealth of understanding and knowledge to share with the parents of college bound homeschoolers. She
provides support, encouragement and step-by-step advice on all aspects of the homeschool high school and college application process.
This book is a must-read for parents considering homeschooling high school and for parents in the thick of the application process."
And help for record keeping! With 12 high school and college planning printables. Just fill them in!
The high school and college planning forms include:
College Entrance Requirements Form
Curriculum Planning Sheet
High School Credit Record Form
Activities and Awards Form
Writing the College Essay Form
Course Descriptions Record Keeping Form
Reference Letter Request Form
For more information, click here -
Frugal College Prep for Homeschoolers
or to buy it here -
my book on Amazon for only $11.99.
Thanks for stopping by BJ's Homeschool,
Copyright
@ BJ's Homeschool
2019