Summary: Fun frugal and hands-on resources for elementary science to your kids. #homeschoolscience #homeschoolelementary
This post may included affiliate links to products that we love and have used or would use
in our own homeschool.
Please see my
disclosure policy.
Are you looking for science studies for your elementary kids that are fun and hands-on?
Learning from hands-on experiences was the best way to go for my daughter. And she loved learning the scientific process by actually doing it.
So for
elementary science in our homeschool, I wanted something that was not only hands on, but was also child-led. I also looked for resources on the science topics that were geared to her interests.
We started out just by going to the library and getting easy to read science books related to her topics of interests.
But then, she was asking for some projects to do, that were related to the books that she had chosen. We used some from pinterest, and then found a great series that added a lot to our studies.
RESOURCES FOR HANDS-ON SCIENCE
One of our favorite resources is called the ScienceWorks series, by Evanmoor. Evan-moor is a long established company, that publishes quality products for both public school and homeschools.
Since it was written by educators, it had lots of great extra learning thrown right in.
It not only had fun, hands-on activities to choose from, it also gave us a list of topics, for my daughter to choose from, for each grade level.
And each book was filled with short lessons, at her reading level, with simple to do activities, in which she could show her comprehension and practice her writing skills as well. And that was after she had done a fun, easy experiment or two.


KINDERGARTEN - All About Plants
In kindergarten, my daughter wanted to learn about plants.
We had just started a vegetable garden.
She couldn't wait to help, and was filled with questions about how things grew.
I chose this little book, for her that year, that explained some simple botany concepts, one step at a time.....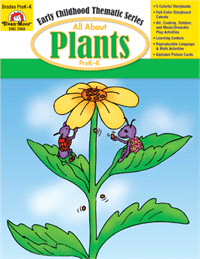 So in Kindergarten, our "formal" science studies focused on the garden.
This book was such a help as it enhanced her learning with its simple clear explanations of what she saw going on in our garden.
Science In the Garden
We planned corn starts, and predicted how tall they would grow. Then we measured their growth each week, and charted it on a simple graph. So you see how we added in math to the science lessons.
Plus baking, and any other fun simple kitchen recipes, they were science, too. And, of course, birdwatching.
And playing in the stream at the park....We did these activities, all through elementary, and often did the Holiday Bird Counts too.


Grades 1 to 3 - Light, Heat, Sound Energy


Then the next year, in first grade, I took my kiddo to the Science Works for Kids website again, and, we started with a book on Energy:
Science Works Series - Energy - My Review
By
doing the hands-on activities in ScienceWorks-ENERGY, my daughter began to think like a scientist!
More specifically, she learned the scientific process, as this book guided her to:
1. Make observations and record data.
2. Make predictions, ie, write a hypothesis
3. Analyze the results, and think about the "Why's"
Then after that, we enjoyed studying energy, she wanted to learn about animals.
GRADES 1 - 3 - Animals Without Backbones
Then she chose this book about
animals without backbones: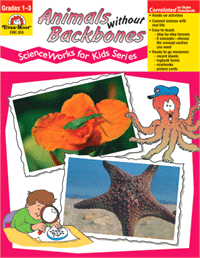 Science Works Series - Grades 1 - 3 (Review)
This series lets you pick and choose what your child is interested in learning....
There were p
uzzles to do, mini-books to make, (very) simple experiments, and cut and paste activities to do.
All the while, she was learning simple science concepts, and practicing her reading and handwriting skills. And these animal studies made our zoo trips all that more fun and meaningful.
I loved how each of the
lessons in these books were laid out in a step-by-step fashion. Theses books gave us a helpful guide to follow for our elementary science studies.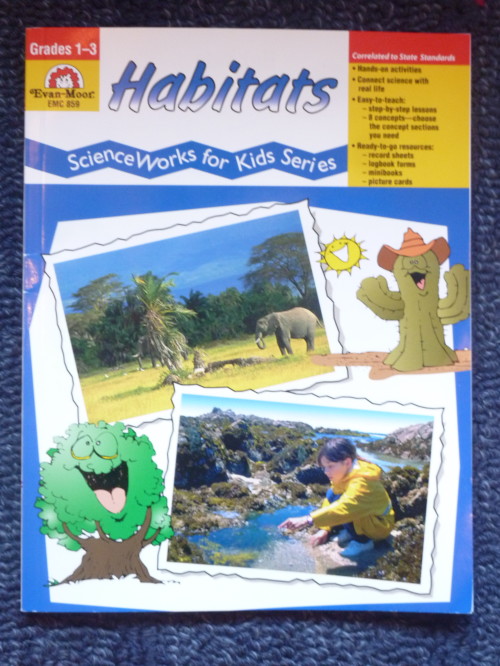 We went to as many habitats as we could! Habitats included science activities for the following habitats:
After doing the lessons and experiments, we went to the park to see the forests, saltwater, and ponds. One winter it felt like the polar habitat here. lol!
LEARNING BENEFITS of Science Works Series
Science Works for Kids added to our science studies each year
by:
Giving us a helpful guide for each topic.

Teaching basic science concepts,

written in child-friendly language.

Laying out science experiments

to do, so I did not have to look them up.

Teaching the

scientific process hands-on

.

Giving

practice in reading and writing

at the same time.
Science Works Series Sources
What would you add to this list?
Click here to reach more on hands-on learning from my friends at iHomeschool Network.
If you like this post, you may like following me on my elementary pinterest board called
Hands-On Elementary.
Thanks for stopping by BJ's Homeschool,