Summary: Finding a homeschool diploma for your homeschool high school graduate is not at all hard to do. Sharing our favorite sources for just the right high school diploma for your grad.
When we homeschool mamas graduated high school ourselves, we got a diploma made by our school. They came from a local printing company I am sure.

Now for our homeschool grads, there are a lot of places to go to get a nicely printed diploma across the web.

Of course most homeschool high school grads want one. Maybe especially this year, with all the changes re covid-19. So many events to celebrate our grads have had to be cancelled.

Mine graduated four years ago. She wanted all the extra senior year things, like going to a homeschool prom, graduating with her homeschool friends at a homeschool grad ceremony, and of course, getting her own high school diploma.
Are you a public school mom with a senior who is graduating this year? Or are you a mom who is considering homeschooling her teen for the first time?
Did you know that colleges are now used to getting homeschool applicants? And they are getting in. Almost every college has accepted homeschooled applicants. See my book below for tips on how to showcase your teen's accomplishments to the colleges.
There are free, frugal, and other options for getting a homeschool diploma. But none of them are hard to get.
Here's our favorites from what we found on the web:
Let's Homeschool High School site offers downloadable diploma
here
.
They have step by step instructions for downloading each of their diploma templates.
There are 7 templates to choose from.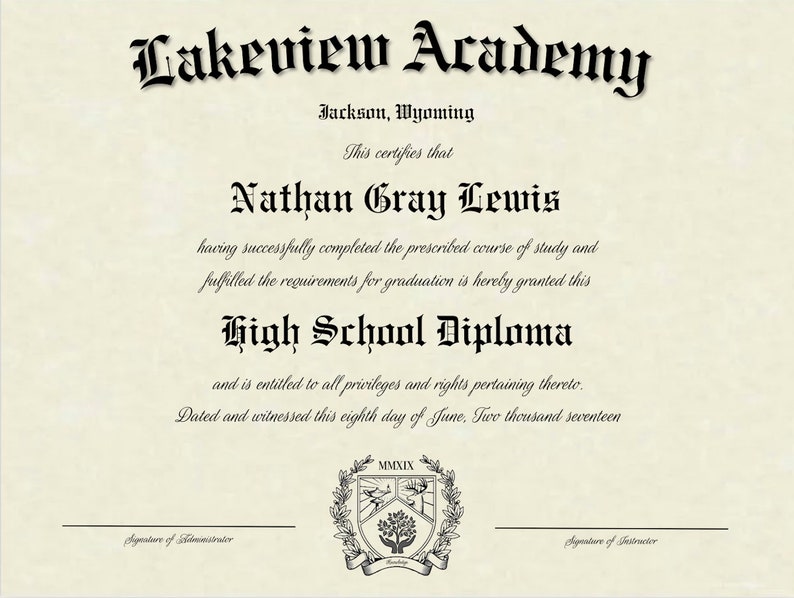 They also offer a Christian based Diploma.


They are a company that offers more than diplomas. They also offer diploma covers, cap and gowns, announcements, class rings, and gifts.
They all are printed on high quality paper and they offer 3 different types of high school diplomas, as follows:

- Standard
-Personalized
-and Gilded

They prices range from $29.99 to $59.99.
Their standard diploma is above. The standard diploma presents the crucial information in a classic way. There is a choice of 2 papers and 3 embossed seals to personalize your teen's diploma.

Just click here to check out the other two diploma options offered by Homeschool Diplomas.

Homeschool Diplomas

is a family owned company who homeschooled their two children. In the beginning they made all of their diplomas by hand.
4. What is the purpose of a homeschool diploma?
Having a homeschool diploma was a very special part of our teen's graduation celebration. It symbolized all the hard work that she did throughout her high school years.
But it also served another very important purpose.
Whenever someone asked her "Do you have a high school diploma?" She could answer yes! She had a high school diploma.

They didn't ask if it was a homeschool diploma or a public school one.
Since your teen did their high school at home, you can answer yes to that question.
If vocational schools or employers ask for a homeschool diploma, you can usually explain that your teen was homeschooled and send them a copy of your homeschool transcript instead.
But often this needs to be negotiated via phone.
Colleges do not ask for a high school diploma, in most every state in the U.S. I have not heard of any colleges that do not accept homeschooled applicants.
Instead they ask for the homeschooled applicants transcript and some additional paperwork, depending on the college.
Senior year was an exciting time in our house. Of course it is such a busy year, too. But it also built so many wonderful memories....Watching our daughter get ready for her homeschool prom, celebrating with family, and just spending time with her through the year, talking about what she wanted to do next in her life.
I am so sorry that seniors this year don't get to experience all of this.
But they did get the opportunity to do high school at home, which can make the difference in two important things:
- It helped her to begin to finding her own way in life, and
- it gave her the chance to grow, in her personal beliefs and in her faith.
Are you new to homeschooling high school?
Below is my high school guide:
(
This post may included affiliate links to products that we love and have used or would use in our own homeschool. Please see my
disclosure policy.
)
It is recommended by Lessa Scherrer, a Certified College Counselor. She says:
"Betsy has a wealth of understanding and knowledge to share with the parents of college bound homeschoolers. She provides support, encouragement and step-by-step advice on homeschooling high school and the college application process; A must-read for parents considering homeschooling high school and for parents in the thick of the application process."
Thanks for stopping by BJ's Homeschool,