Summary: This is about a new homeschool high school grammar program that works for teens who struggle with grammar. Many teens need review in grammar as part of their homeschool high school English courses. This includes a review of our favorite homeschool grammar resource, for middle and high schoolers, using an innovative approach. #homeschoolhighschool #highschoolEnglish
Are you looking for a grammar book for your high schooler? Or do you have a teen who struggles with grammar?
Do they have trouble with a traditional grammar program, or just dislike it a lot? How about a grammar program that my teen actually liked doing?
When we were looking around for a grammar program for my high schooler, we were not expecting to find something fun. I wanted something that was more approachable than memorizing grammar terms and definitions as presented in a standard grammar text.
My daughter would get bogged down with the definitions and the long list of questions to answer after each term was introduced in regular grammar programs.
And when we found
English 2600
, my daughter was delighted...about grammar! This program offers a series of books, for middle and high schoolers.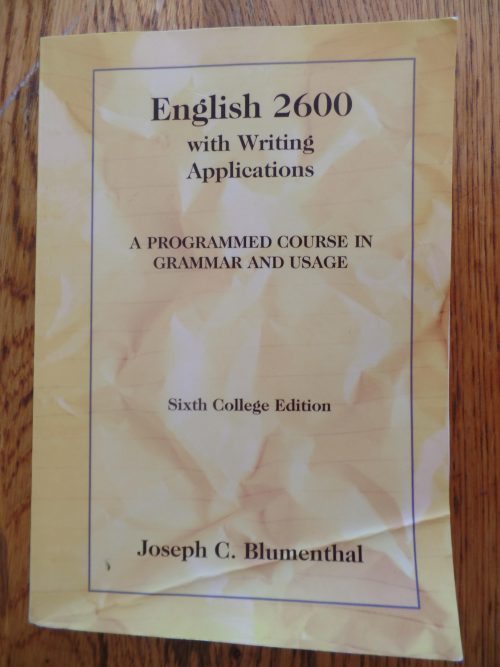 No memorizing, no sentence diagramming – can't get better than that! The way it is presented actually makes it like a quiz game and the positive reinforcement all along the way makes it FUN!
It taught the grammar rules in a an easy step by step way, applying them to sample sentences right away. There was immediate positive reinforcement too!
SO how does this program work?
Yes, it looks a bit weird but my daughter figured out how to use it quickly with the helpful instructions. You just go from one "frame" to another, following the lesson that is so cleverly laid out.
Each step, or "frame" poses a question and then gives the answer on the next page, so the student can quickly self-correct, then go on to the next frame. Step by step.......
..please click here to reach my review.
When my daughter was finished with this program, she not only knew the grammar rules, she was already applying them to her writing assignments without having to think about it.
It got into her brain!
By the time that my daughter got to college, her grammar skills were already up to college level. She was able to apply it to her college level essays and did well with them.
SO I highly recommend this grammar program. For more information or to purchase any of the books in this series, please click
here
.
That will also give your info on which book to use for middle school and which one fits high schoolers. Or for more information on this helpful grammar resource, please click
here
to reach my review.
--------------------------------------------------------
Have you seen my new book yet?
Would you like some guidance to help your teen get into college?
You don't have to hire an expensive college counselor. With my book beside you as your guide, you can continue homeschooling high school your way, and also help get your teen into college, too.
Did you know my book also includes exclusive guide to the Common Application, just for homeschoolers?
It gives you everything that you need to plan your high school homeschool for your college bound teen. Plus how to help them get into the college of their choice.
This book is an easy-to-read guide to college for homeschoolers, recently updated with 7 NEW chapters, including:
- My own homeschoolers guide to the Common Application
- How to write the Counselor Recommendation Letter
- Where to find college scholarships
- How to make your own homemade courses
-
Included are also 12 homeschool high school planning printables to make your record-keeping easier.
10 easy to do steps to homeschool high school with college in mind.
And it really is NOT that hard!!
This book does not tell you how to homeschool high school. Instead it gives you guidance for doing it your way!
Keep your nurturing homeschool style and showcase their accomplishments to the colleges!
Recommended by: Lessa Scherrer, certified college counselor
from College Inside Track:
"
Betsy has a wealth of understanding and knowledge to share with the parents of college bound homeschoolers. She
provides support, encouragement and step-by-step advice on all aspects of the homeschool high school and college application process.
This book is a must-read for parents considering homeschooling high school and for parents in the thick of the application process."
And help for record keeping! With my exclusive high school and college planning printables.
The high school and college planning forms include:
College Entrance Requirements Form
Overall High School Plan
Curriculum Planning Sheet
High School Credit Record Form
Transcript Form
Activities and Awards Form
Homemade Course Form
Writing the College Essay Form
Course Descriptions Record Keeping Form
Reference Letter Request Form
PE Record Form
For more information, click here -
Frugal College Prep for Homeschoolers
or to buy it here -
my book on Amazon for only $11.99.
And don't worry about forgetting things!
Thanks for stopping by BJ's Homeschool,
Copyright, 2017, All Rights Reserved