This article shows how we used frugal homeschool middle school writing curriculum in our homeschool. There may be affiliate links to products we used or would use in our homeschool, and please see my disclosure policy here.
Are you looking for homeschool curriculum resources for middle school writing? Or are you needing something new that might get your young middle schoolers writing?
Or when you give your student a book report to do, do they have difficulty getting started?

Our 2e young middle schooler did. She loved writing when she was younger. At that time, she did a lot of journal writing where my child enjoyed writing about her day, or her latest adventure.

But when she got to be a middle schooler, she was reluctant to write in her journal. She was not inspired and needed some inspiration and structure to get her writing.

Does that sound like your middle schooler, too?

Spectrum Middle School Writing

There are a lot of homeschool writing curriculum out there, that one can chose from.

Like Brave Writer, IEW, Write Shop, and more.




Most of these alternatives are somewhat costly and also, in my opinion, somewhat complicated to use.

We wanted something that both inspired my daughter to write, and at the same time, taught her the basics of writing, paragraph writing, easy essay writing, etc.

When we found

Spectrum Writing - Grade 6

, we were pleased. This homeschool middle school curriculum did both of those things, and was also easy to teach! And also affordable and really quite frugal.


Spectrum Writing Provides Structure

Spectrum Writing is an activity based workbook, that is designed for independently study. Here is a page from the book that helped get my daughter writing a personal narrative, ie a story about herself or her experiences.




And it provided the structure, in it's project based lessons, that our child needed.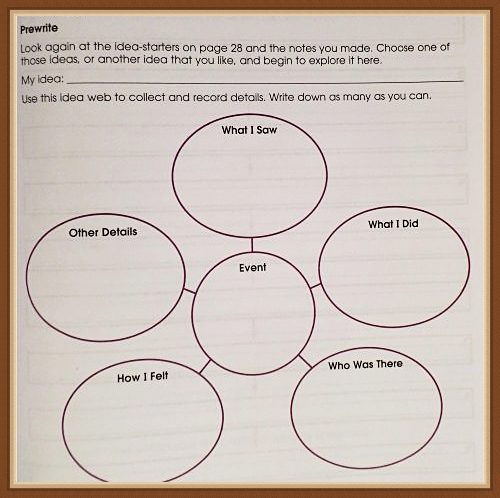 A chart to help write a personal narrative.
My young teen could just open the book, choose a lesson and project to do, and just would rely on me for any questions that came up.
Of course we also celebrated her writing, including having her read her work out loud to the family afterwards. But it did not depend on a lot of 1 on 1 instruction from me. And the projects inspired her and helped her to get writing and to enjoy writing again.
Spectrum Writing has an Answer Key
The other great feature of Spectrum Writing is that includes the answers to each activity in the book. This can be a great help when you go to grade or give feedback on their work.
It also includes a
Writers Handbook
in the book.
For more information on Spectrum Writing - Grade 6, just click here -
Middle School Writing - Resources from Spectrum Review
Spectrum Writing
offers curricula from Grade 1 through Grade 8.
Working in
Spectrum Writing 6
inspired our daughter to get into story writing the next year, then nonfiction writing after that.
7 Sisters Middle School Essay Writing
Another of our favorites for middle school writing curriculum are the courses below, from 7 Sisters Homeschool. Both of these courses also offer benefits just like those in Spectrum Writing, such as:
- They are frugal
- They provide helpful structure
7 Sisters Homeschool
offers these two frugal courses:
This course teaches basic essay writing format and includes a number of essay writing activities, including conpare/contrast essays and persuasive essays. I like their "no busy work" approach and that they also offer a guide for how to grade your young teen's work.
Does your child like to write fantasy oriented stories?
These are great for our young teens to do, too, as it helps them feel comfortable about putting letters on the page. And it also teaches them literary analysis, by naturally learning that as they put together their story.
7 Sisters Middle School Creative Writing
My daughter loved to write stories as middle schooler. I wish I had known about this course then. Middle School Short Story Guide makes it easy for your child to develop a plot, create characters and put together their story.
It is a 5 week course, so could fit into your young teen's fall quarter easily. For more information on exactly what is in this fun course, just click
here.
To read more about frugal and helpful Writing Resources for middle schoolers, please click here-
Middle School Writing - A Teen Led Approach
. Homeschool writing resources for creative writing, essay writing and book reports is included in this article.
For more information on 7 Sisters Homeschool mentioned above, and how to get a reluctant young teen writing, I invite you to click here -
Middle School Essay Writing Help for Your Homeschool.
They also offer lots of high school English courses, too
here.
I hope these ideas help you to inspire your middle schoolers to love writing.
---------------------------------
This book does not tell you how to homeschool high school. Instead it gives you guidance for doing it your way!
Recommended by:
Lessa Scherrer, Certified College Counselor
from College Inside Track.
Thanks for stopping by BJ's Homeschool,
Copyright @ BJ's Homeschool 2019