Summary: This article shares
experiences our family has had with annual homeschool achievement testing for their gifted/twice exceptional daughter.
Please see my
disclosure policy.
We found out that our daughter was gifted when she was quite young. Since I had a background in preschool teaching, we just decided to give that a try, and began homeschooling when she was about 4 years old.
Since the homeschooling worked out so well, we did not venture into having her tested professionally re her giftedness and her 2e tendencies. We noticed her learning issues, which centered around sensory and attentional issues but since I was an O.T, we just adapted things as best we could.
Well, that worked out well until we were faced with her homeschool requirement in our state. In WA state, annual achievement testing is required, or alternately, having an individualized assessment done by a certified teacher.
When our daughter was 8 years of age, we went ahead and arranged for her annual testing. And through that we learned that she had another learning issue. Something that we had not seen yet.
We had avoided testing during our homeschooling years, preferring hands-on learning approaches. Until we needed to do her first annual testing.
And my daughter was at a loss. I repeated the instructions again. And she did not understand...again.
Here was my child who had been doing great with all of her homeschool studies. She was an avid reader, a kid who enjoyed writing in her daily journal, and one who enjoyed doing her math.
But she was unable to follow the oral instructions. She felt traumatized.
That was how we found out that our daughter struggled with auditory processing issues.
Making Accommodations
I was just beginning to learn that my daughter's difficulties with auditory processing.
So, when I read the directions out loud, she was lost. And then, traumatized, as she was so upset with her difficulty in following the oral instructions.
She needed a test that had written instructions. This was a sign of her auditory processing issues.
But since this first testing attempt was so upsetting to her, we went another way.
I looked for an assessment from a certified teacher, instead. That was also an acceptable alternative in our state of Washington.
We found a resource that offered at home testing at Family Learning Organization (FLO). They also offered more informal assessments, in addition to regular testing.
They are a homeschooling family who are based in Washington state. I was thrilled to find them.
This was just what my daughter needed. The positive feedback, built her back up, and then she was ready, the next year, to tackle testing again.
Annual Testing at Home
For our second attempt at testing, I found a test with written instructions, called the
CAT
.....the California Achievement test. And then, we were ready to go. For my daughter, having the instructions on writing was just what she needed.
We enjoyed the support and services from FLO, and the fact that we could test our daughter at home. Many homeschoolers test in groups, organized and provided by their homeschool support groups. But for us, testing at home was key.
FLO offers standardized assessments, including the CAT, and teacher reviewed assessments, which they have done for over twenty years. So I sent the summary that they asked for, of my daughter's homeschool work that year. It was reviewed by their teacher, who sent us helpful feedback on her homeschooling year.
Are you interested in testing at home, too? Here's some links to other At-home testing options:
I decided to do a little test prep the second time around, to help build up my daughter's confidence. For this, we chose Spectrum Test Prep. Spectrum offers a nice series on test prep, for grades, 3 - 8. I have a review of Spectrum Test Prep 3.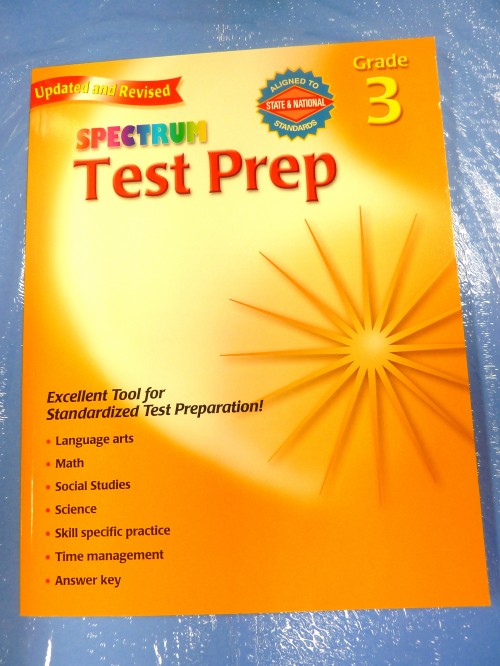 We continued to use their series each year. It helped my daughter to get used to the type of questions that were asked on standardized tests.
It's a video game, for test prep. But, of course, test prep is not necessary to do.
Tapping into play with this test prep video game, was a helpful way to reduce testing anxiety.
She developed a confidence in test-taking, so by the time she needed to do it for real, ie the SAT test for college application, she was quite confident.
And by practicing with our end of the year testing through the years, my daughter no longer feared testing, and did well with her SAT's and later tests in college.
What testing or assessment option do you like to use in your homeschool? I would love to hear about that in the comments or on facebook.
This post is a part of the Gifted Homeschoolers Forum blog hop, Tips, Advice and Help When Having Your Gifted Child Tested. Click here to read all of the articles in this blog hop.
Thanks for stopping by BJ's Homeschool,

Copyright @ BJ's Homeschool 2020

All rights reserved.