Summary: Homeschooling preschool and kindergarten can be done so easily through playful learning activities. Here are our favorite preschool and K resources for doing just that. Frugal or free! I am a former preschool teacher who came home to homeschool her child.

This post may included affiliate links to products that we love and have used or would use

in our own homeschool. Please see my

disclosure policy.#homeschoolpreschool #homeschoolkindergarten #earlylearning #preschoolcurriculum #frugalpreschoolcurriculum
Are you looking for hands-on curriculum and resources for your little learners?
How about some that are frugal or free?
As a former preschool teacher, I recommend using playful and hands-on approaches for the preschool, PreK, and Kindergarten.
I used many of the early academic activities discussed below in my own preschool for many years.
Here are my favorites for the preschool and the kindergarten years, which are easy to use and are frugal,too.
Choose from these ideas and activities, with regards to how preschoolers learn, which is in short spurts of learning activities. They have very short attention spans.
What about attention span issues?
For preschool, we only worked for 15 minutes at a time. Our focused learning time in kindergarten was about 1/2 hour to an hour at most. Little ones really don't have more attention span than that on the average.
This level of work in the early years prepared my daughter well for the elementary years. She is a homeschool grad now, who also graduated college.
So be encouraged that hands-on learning works!
Let's start with early math, the go on to:
-early language arts,
-fine motor activities,
-handwriting,
-arts and crafts,
-early science,
-and the fun of easy field trips.
Again, all of these subject areas do not need to be addressed at the same time. It all depends on the needs of your child.
1. MATH PLAY
We didn't use a complete math program, but preferred doing our early math, with our own hands-on activities, card games were great, too.
Click the link to reach more of my article on early math activities:
Preschool/K - Early Math
...for hands-on learning fun with numbers, sets, etc, and also how to make a Math Manipulatives Kit, without spending any money.
This post shares how we went about making our kit and learning early math concepts
using our manipulatives.
It also includes
two early math workbooks that we also enjoyed, and my daughter worked out the problems using her manipulatives.
2. EARLY LANGUAGE ARTS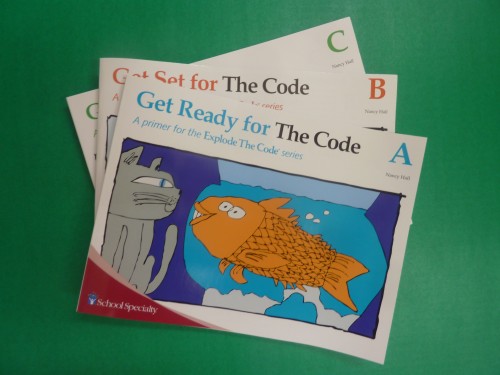 Not every

homeschool family does phonics but we found that

phonics was key to the development of reading skills for our daughter.
We let our daughter take reading at her own pace, and followed her lead.
Learn to Read with Explode the Code
gives you more information on this excellent reading and phonics program.
To read about Explode the Code and all about early language arts, phonics and more you will find links and more here -
Preschool/K - Early Language Arts.
Next, let's talk about resources for fine motor activities for handwriting....
3. FINE MOTOR and HANDWRITING
I am a former Occupational Therapist and I share lots of developmentally appropriate handwriting activities on my blog here - Handwriting.
Playful activities are the best way to get your child ready to write their letters.
To develop hand coordination and wrist strength for handwriting, we did LOTS of crafts, enjoying sidewalk chalk art, etc.
Sometimes we tore paper into small pieces to make a design with glue, which helped to strengthen the finger muscles.
Click here to reach my fine motor article on
:
Small Muscle Games
There's always benefit for small muscle development from playing with legos, small blocks, small cars, etc.
This photo shows one of the special ways to help your child with fine motor skills and grasp.
Click below to reach my article on 8 more ways to develop good grasp:
Click here for my article on 9 Ways to a Mature Grasp - Games and Fun!
When my daughter was ready to start writing her letters, we wrote letters in the air.
This gave my daughter the feel each letter.
And it also gave her practice in crossing the midline, when we made large letters in the air. That can help kids get ready for handwriting.
Click below to see how to teach handwriting in a very frugal way:
Click here for my article on Teach Your Kids to Write.
It has lots of ideas for beginning handwriting, if your little ones are ready for that.
It doesn't matter when your kids learn to write, as they will likely get it when it is the right time for them.
4. ARTS AND CRAFT ACTIVITIES
Arts and crafts are, of course, great for developing fine motor skills, but they also are super for learning direction following, attention to task, and let's not forget, creativity.
Coloring, painting, playing with clay were popular at our house. A favorite was painting with pudding!
My daughter enjoyed drawing, then sometimes she would dictate a few words about her picture, which I would write down for her to copy.
When she chose the words herself, her copywork was very meaningful to her.
When your child is making their own very, very simple book and using their own words, they are learning great pre-reading skills at the same time.
They are learning what words are used for, as they see you copy their words down for them, then later read them back to them. The thrill of seeing and hearing their own words is something that makes reading real for them.
Once my daughter started making these simple books, I could not get her to stop! We would go to the park, then she would come back and write a little story about it. Then the fair, same thing. She wanted to make so many of these easy to do books!
And little ones can make them, too, as they just dictate their words to you, for you to write down for them.
Read more about how to do that
here for my article on
The Art of Simple Book Making.
Early Science is really just all about learning and the natural things that your child will do like picking up leaves, touching them and feeling the texture of them, spotting spider webs, watching birds fly, etc.
For activities and ideas on early science, click below:
Early Science - Hands-On
is my article on easy and fun ways to add in early science.
Some of our best memories
were made when we did simple field trip, like going on a train ride with friends, fishing at a kiddo's fishing hole, or joining other homeschoolers for a park day.
Or heading exploring in our backyard, for insects, worms, even slugs....
And of course birds -
Our Favorite Books about Birds and Birdwatching.
One year, my daughter asked to do a ballet class like she had read about in one of her books. We found using a community group class like that added a lot to our week, and led to support for me from other mamas, even some homeschooling ones!
------------------------------------------------------------------------
Do you have a teen in your house?
Did you know that there are so many homeschool friendly colleges out there now? That is the trend. Requirements are actually getting easier for homeschooled applicants.
Homeschooling prepared her well for college and she had no difficulty getting accepted to each of the colleges on her list with her homeschool transcript.
So if you think that your little one will be headed that way, they should have no trouble getting in as a homeschooler, if you decide to go all the way.
For more information:
Homeschooling High School with College in Mind
.
Thanks for stopping by BJ's Homeschool,