Do you have kids who struggles with making friends? Are they shy or just have trouble reaching out sometimes? Or do you have a child who is on the spectrum, who struggles with making eye contact with others?
Have you ever thought about using a coloring book approach to help them?
I recently found a series of delightful coloring/story books called Donnie Learns. One of the books
Donnie Learns How to Make Friends,
shows kids how to make friends through a sweet creative story.
Each book
pairs gentle, sweet stories about friendship and 6 more character traits like gratitude, with a coloring activity on each page.
The seven books in the Donnie Learns series speak especially well to kids who are on the spectrum.
The author wrote the books for his nephew who had Aspergers. They are great for typical kids as well, especially shy ones.
My favorite book in the series is the one I mentioned above -
Donnie Learns How to Make Friends
. It is a story about making new friends after a move to a new home, starting with how the boy befriends a deer in his own backyard.
It encourages using eye contact, in a sweet way, first through the deer, whom he watches from his window.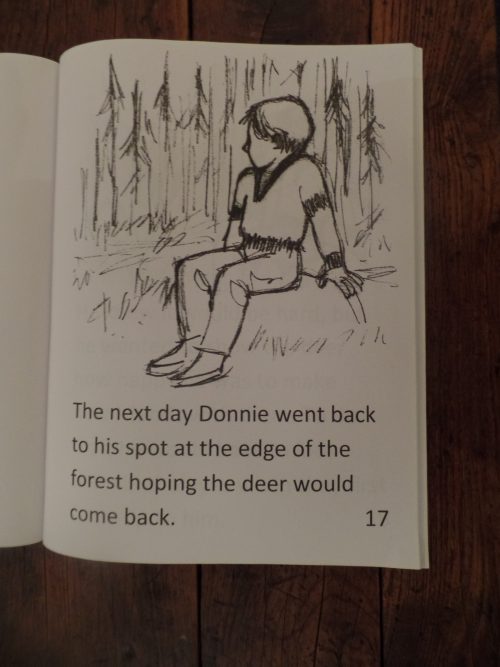 What a wonderful way to encourage a child who struggle with making friends, or making eye contact with others! They are also great for when you want an independent coloring activity for your young ones, while you are working with your older kids.
There are six more coloring/story books in this series, each with a different creative story, all with the same kind and respectful tone. Click
here
to read lots more and my review.
Would you like to look inside one of these books? Below are links to all of the books in this series, each focusing on a different character trait, like gratitude, responsibility and more.
Note - This post includes affiliate links to products that we love and have used or would use in our own homeschool. Please see my disclosure policy.
Just for fun, here's some of my favorite pictures of homeschooling my 2e daughter when she was little:
Homeschooling with our cat....
And riding her bike that she received for graduating from our Kindergarten at home. What's happening at your house this winter? You may be making memories without even realizing it! Please share one or two in the comments. I love reading them!
Thanks for stopping by BJ's Homeschool,